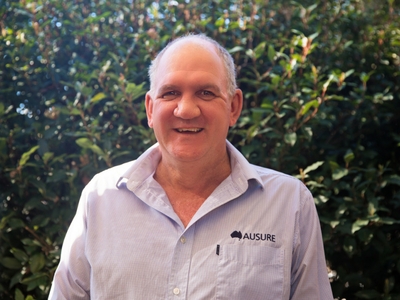 Jason Brooks
Jason transferred his considerable success as a business owner in the mining and engineering sector to an equally successful six year career as a stockbroker.
He is passionate about sharing his knowledge and experience and helping clients reach their goals.
Jason and Rob Baker established Ausure Scone in 2012 to provide comprehensive financial advice to their clients.
---
Rob Baker
Rob has been immersed in the stock broking industry since 1987. His experience spans from the back office through to the trading floor and advising clients with major broking houses including BNZ Norths, Macintosh Securities, Shaw Stockbroking and Macquarie Bank. Rob holds a Diploma of Financial Planning and specialises in giving advice in the following areas:
Investment Portfolio Construction
Superannuation
Managed Investments
Personal Insurance
Self-Managed Super Funds
---
Luke Volker
Luke is a passionate investment professional who has held various positions in global equities, investment operations, currency and commodities. Luke brings a wealth of knowledge in portfolio construction, risk management, investment analysis, economics, equities, managed funds, derivatives, personal insurance and retirement planning. Luke holds a number of qualifications including Masters in Applied Finance and a Bachelor of Commerce / Bachelor of Economics as well as a Diploma and Advanced Diploma in Financial Planning.
Luke specialises in giving advice in:
Portfolio construction and risk management
Superannuation
Managed Investments
Retirement Planning and Strategies
Personal Insurance
Transition to retirement strategies and salary sacrifice/contribution strategies
---
Caitlin Hall
Caitlin recently made the move from a successful career in journalism to financial planning. She has a Diploma in Financial Planning and a Bachelor of Communications. At Ausure Scone Caitlin assists clients with personal insurance and superannuation. Having lived in the area for most of her life, Caitlin takes great pride in tailoring solutions for locals that will help them to reach their financial goals.
---
Josh Watson
Josh began his career in insurance with Ausure Insurance Brokers in Newcastle as a trainee. After a 2 year stint in Tamworth, Josh started, owned and operated the Taree branch of Ausure Insurance Brokers. After building this into a sizable business. After a short break working in Texas, Josh was approached to head up the Ausure Insurance Solutions business in Scone. Since then Josh has been providing numerous insurance solutions to the wider Scone community.
Josh specialises in providing advice and solutions in:
Farm Insurance
Equine Insurance
Livestock Insurance
Business Insurance
Public Liability
Professional Indemnity
Management Liability
Home & Contents
Vehicle Insurance
Mobile Plant & Equipment
Industrial Special Risks
---
Janicke Pilkington
Janicke joined Ausure Insurance Solutions in January 2016. She previously worked for Ausure in Newcastle before moving to the Scone office where she helped to launch the equine insurance side of the business. She has a Tier 2 Qualification in Insurance Broking and a Bachelor in Philosophy. She can assist with:
Equine Insurance
Livestock Insurance
Farm Insurance
Home and Contents
Vehicle Insurance
---

Aaron Watts
Aaron has over 20 years' experience in the finance industry. Aaron currently holds a Diploma of Finance and Mortgage broking management and a Diploma in Financial Planning. This, along with his wealth of knowledge gained in numerous roles provides comfort for his customers in providing them with the best option for their individual finance goal.
Aaron can provide advice and solutions in:
Home finance
Investment finance
Personal finance
Car / Leasing finance
Asset purchase finance
Commercial / Business finance
---
Shevaun David
Shevaun has over 15 years' experience in the financial industry. Before joining Ausure, Shevaun worked in real estate and was the branch manager at a local bank. Shevaun has always strived to deliver great customer service, and having lived in the area for over 20 years, she aims to use her local knowledge and experience to help make the process of buying a home or accessing finance as simple and stress-free as possible. Shevaun works with over 20 financial institutions and providers to ensure that clients have the best option for their mortgage, car or personal finance.
---
Stuart Doughty
Stuart has enjoyed 20 years working in the Thoroughbred industry studying a bachelor of equine business management, working with leading horse trainers John O'shea and Gai Waterhouse.
He then moved to Scone in 2008 where he was a leading salesmen at Darley stud in their stallion nomination department culminating in both Lonhro and Exceed and Excel becoming champion's stallions in Australia a first for the company in Australia.
In 2014 he was offered a position to manage the historic Kia Ora Stud in Scone for prominent Malaysian businessmen Mr Ananda Krishnan.
Stuart is committed to servicing his client's insurance needs in both the general and equine arenas.
---
Kimmy Leake
Kimmy has worked in her role as Client Services Manager at Ausure Scone since 2015. Her role involves ensuring that all Ausure clients are kept up to date with all the information they require and working with the wider to team to assist clients with all their financial needs.
---
Sandra Elliot
Sandra has lived in Scone for the past  five years and joined Ausure as the receptionist in 2017. Sandra has over 25 years' experience in customer service and has a very strong customer focus.
Sandra is committed to ensuring there is a relaxed friendly environment for all our clients at Ausure Scone.
---